Posted by
johnrinker
in
Uncategorized
, tags:
curriculum
,
gangsta
,
johnrinker
,
learning
,
values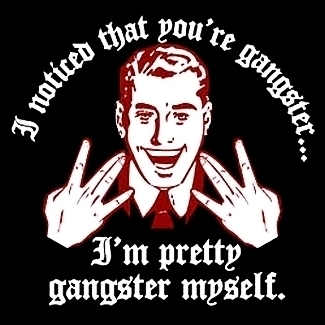 I'm not now, nor have I ever been a gangster. And I'm certainly not 'gangsta' by any stretch of the imagination; though I have been known to bust a rhyme from time to time. But if I were 'gangsta' and lived the gangster life, I'd only be the guy who runs the dry cleaners as the 'front' for all the seedy things goin' on in the back. I'd be the geek who actually knows all about pressing pants but nothing about laundering money. I'd be Sheldon, not Santino.
Sometimes as a teacher I feel pretty gangsta because, truth be told, I do have a front. It's called my curriculum. While it is full of fascinating essential questions about our place in society and cool stuff about literature, metaphor, and character arcs my curriculum really is only a front. What I actually explore with my students every chance I get is what it means to live a good life.  You know, in the Socratic sense of the unexamined life and all that. Not that I am an expert on this, but I am pretty sure living a good life has something to do with being kind, reflecting carefully, laughing a lot, and rummaging around for the truth.
So while my students and I are grappling with grammar, playing with poetry or fumbling with the future, I seize every opportunity for us to talk about being human and what truly makes life worth living. We toss around important ideas like beauty, love, freedom, responsibility, and friendship so that when my students leave my classroom they have something more to take into their lives than just when to capitalize letters and why the Greeks were so dang cool.
I know it's not very gangster, but it seems pretty 'gangsta' to me.
2 Comments »